Announcing Buff Mountain
I admit it. I've been keeping a secret from all of you. (Stop me if you've heard this one.) I have another game project to announce! I know what you're thinking: "Tyler, if you make all the games, what will the other game developers do?" Well don't worry, Little Timmy, I'm not here to put you out of a job. Not on Halloween Eve! You see there's a great explanation for all of this and it starts with a little place called Game CoLab.
Game CoLab?
Yes, Game CoLab! Simply put: they are a Phoenix-based startup incubator for games companies. They take young, fresh-faced idealists, brimming with creativity (like me), deliver unto us the ancient wisdoms, and finally thrust us into the go-go world of Business!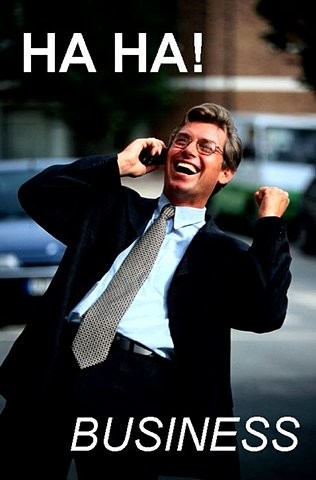 (They make you buy your own ties, though.) Back when I cast off my desk job to set out on this lonesome game dev adventure, I looked around the Arizona landscape for kindred spirits. Among others in this fantastic community, I found Game CoLab and said "yeah I wanna be a part of that." And so it was when the moon and stars aligned that I pitched them this game. And so it was I was accepted. And so you came to read this article.
So what's the game?
In Buff Mountain™ you are a lumberjack! And to prove that you are the buffest lumberjack around, you have to run straight up the side of Buff Mountain: the tallest and most forbidding mountain in the Canalaskadan wilderness. Only the beardliest of contenders will survive the rumbling rocks, treacherous trees, ravenous ravens, and wild wolves that stand between you and fame. (Coming to your mobile device next year.)
The Canalaskadan Visitor's Bureau has asked that I share this travel poster.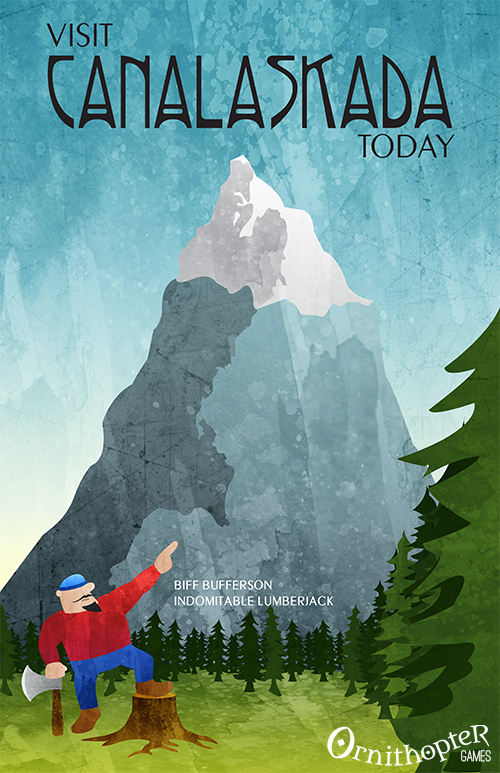 This game is entirely my own creation, so expect it to be full of bad jokes. For now that's all you get. Evil, I know. But I'm going to bring you a steady drip of news and details around Buff Mountain™. So keep your eyes here and follow the Twitter feed. You don't want to be the last one up the mountain, do you?