Ornithopter Shirts Now Available
VALLEY OF THE SUN TELEGRAPH COMPANY
    RECEIVED JAN 19 2016 12:10 PM
    - - -
    NEWSFLASH FOR IMMEDIATE PUBLICATION STOP
    ORNITHOPTER GAMES LOGO SHIRTS AVAILABLE FOR INTERNET PURCHASE STOP
    PREPARE FOR IMMINENT ENCLOTHENING
That's right fashionistas! Just in time to regret that your mom or significant other could not purchase it for Christmas gifting, you can be one of the first to acquire this handsome Ornithopter logo shirt.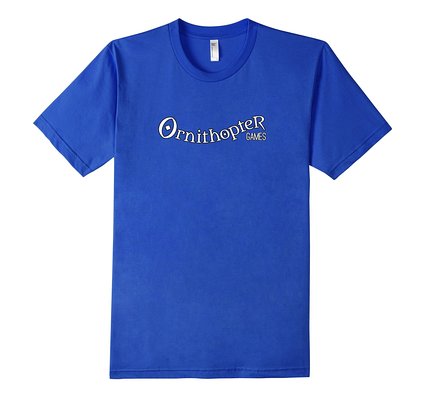 Available in colors: Black, Royal Blue, and Slate
Available in identities: Men, Women, and Youth
Available in materials: 100% fine ring-spun combed cotton (machine wash cold)
For too long now you have yearned to strut your stuff about town, daring people to ask you "What's an 'ornithopter'?" Wait no longer, friend. Seize that experience today!*
---
On a more serious note, if you are familiar with custom t-shirt sales you may be wondering how I could afford a bulk print of shirts that I am extremely unlikely to sell. Well I have a secret super-weapon here, and that is Merch by Amazon. Shirts printed and shipped on demand, no minimums. Normally I wouldn't waste time plugging Gibson-esque megacorps like Amazon, but I think this is a really cool service and it was impressively easy to get everything set up. Anything that lets me put stupid things on a real shirt without resorting to puff paint and bedazzling is all right by me.