Buff Mountain Hits the Road
They say if the mountain won't come to you, you have to go to the mountain. Well we here at Ornithopter don't put much stock in what They say, so we brought Buff Mountain to you! Dateline: October 24th, 2015, Tempe Public Library, Tempe, Arizona. Along with my good pals at Game CoLab, I was invited to set up at their Tech Fair and spread the gospel of game dev.
More than just giving folks a peek at a game in development, I wanted to offer something interactive. Something to highlight the myriad of technical and artistic skills that go into making a game, but also accessible to kids from 9 to 92. And then it hit me: bang, boom, pow. Sound effects! So I packed up my microphone, fired up Unity for Linux, and went to T-town. I present to you Buff Mountain: Make Some Noises! A live demonstration event for people in reality land.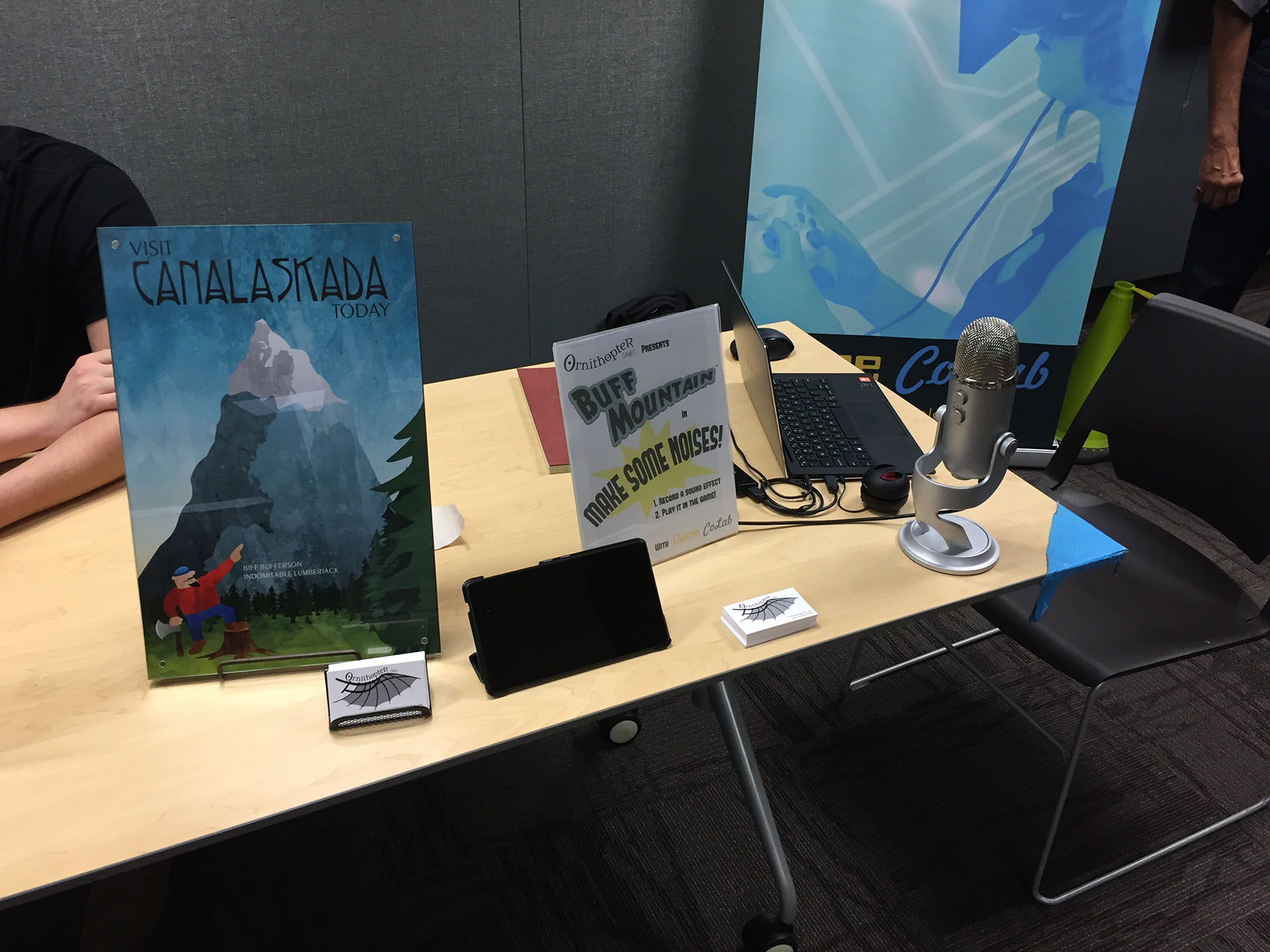 The demo went a little like this. With Audacity I record you making a "jump" sound effect, trim it down, and save it as a wav file in the Unity project folder. A single button click later and you're playing the game with your custom sound effect in place. If you said Boing!, the game says Boing! every time you hit the jump key. Simple but fun! And this whole cycle takes just a matter of seconds (important when eager kids are hopping around waiting to play.) Also I had the tablet running the latest build so you could play while waiting.
I was blown away by all the folks who got into it, and not just kids. Here's a super-cut of just some of the awesome sound effects you great people recorded that day.
A number of people who tried it (or watched) commented on how just one sound effect can impact the experience of playing the game. Bingo! You hit the nail on the head: full marks! As I learned through many a game jam, sound design is so often overlooked when you consider how important it is to our perception of a game.
Further, I hope this provided just a little taste of what it was like to be a game developer. The first taste is free! But seriously, one of the greatest feelings is to open that door of creativity: games are something you can make, not just something you consume.
That's it for now. If you saw me at the library, send a note and say hi. If you have questions about how to get into games, ask away! If you are a lumberjack who yearns for games that speak to you, well I'm working as fast as I can here!